University of Maryland Brain and Behavior Institute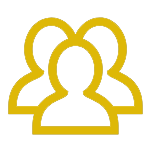 100+
researchers united in innovative and collaborative neuroscience
Impact Through Bold Multidisciplinary Approaches
The Brain & Behavior Institute advances neuroscience through collaboration with diverse partner disciplines, the development of cutting-edge tools and a focus on translational significance.
Our mission
700+%
return on BBI seed grant investments through translation into federal and private funding
A Diverse Research Community
A centralized community of neuroscientists, engineers, computer scientists, mathematicians, physical scientists, cognitive scientists and humanities scholars, the BBI harnesses the power of multi-disciplinary approaches to solve the most pressing problems in nervous system function in development, aging and disease.
Our approaches

38
interdisciplinary seed grant project teams to-date across nine UMD colleges and schools
Long-term Interdisciplinary Collaborations
The BBI facilitates the development of new multidisciplinary teams by providing the platform for innovation and long-lasting research partnerships.
Our projects
News & Events