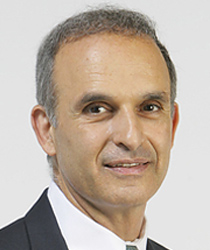 JaJa, Joseph
Professor

Electrical and Computer Engineering
UMIACS
Brain and Behavior Institute

2415 A.V. Williams Bldg

BACKGROUND
Joseph JaJa holds a joint appointment in the Department of Electrical and Computer Engineering, and the University of Maryland Institute for Advanced Computer Studies (UMIACS). He received his Ph.D. in Applied Mathematics from Harvard University in 1977. Dr. JaJa has published extensively in a number of areas including parallel and distributed computing, combinatorial optimization, algebraic complexity, VLSI architectures, machince learning, and data science. He has received numerous awards including the IEEE Fellow Award in 1996, the 1997 R&D Award for the development of software for tuning parallel programs, and the ACM Fellow Award in 2000, . He served on several editorial boards, and is currently serving on the advisory boards for several conferences and workshops.
HONORS AND AWARDS
Best Article in 2016 for Environmental Research Letters.
Best Paper Award, Scientific Visualization, 2012.
Internet2 Driving Exemplary Applications (IDEA) Award (2006)
ACM Fellow (2000)
R&D Magazine's R&D 100 Award (1997)
IEEE Fellow (1996)
Dr. JaJa's current research interests are in high performance computing, machine learning with applications to neuroscience, and data science.
Professor Joseph JaJa part of new, multi-institutional effort to advance medical innovations and regulatory science for extended reality technology.
New research employs advanced computational algorithms to uncover latent information in fMRI scans about human mental states.
Grant brings together butterfly monitoring citizen groups and experts in informatics and statistics.