Neuroscience Graduate Students at UMB, UMCP Awarded Fellowships for Cross-campus Training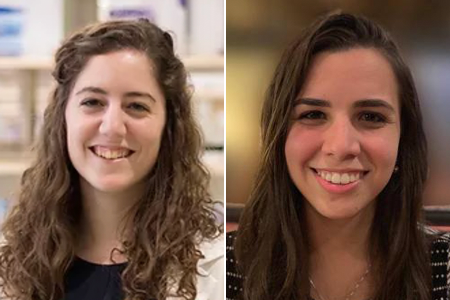 Two neuroscience graduate students have been announced as recipients of this year's Visiting Fellows in Neuroscience Program (VFIN). Sydney Ashton, a Ph.D. candidate in the Program in Neuroscience (PIN) at the University of Maryland, Baltimore (UMB), and Katherine Pizano, a Ph.D. student in the Neuroscience and Cognitive Science program (NACS) at the University of Maryland, College Park (UMCP), will travel to College Park and Baltimore respectively to train in cutting-edge techniques that will broaden their research expertise.
Ashton, a fifth-year PIN graduate student in the lab of Professor Margaret (Peg) McCarthy, will travel to the laboratory of Professor Matthew Roesch to further characterize behavioral deficits across the lifespan in a rat model of neuropsychiatric developmental disorders. Currently, Ashton works with juvenile rats: she uses mutation of a specific candidate gene and exposure to an early life immune challenge to explore sex-specific impairments in the motivation to play, which is crucial for healthy brain and social development in humans and rats alike. Ashton will expand this research in College Park to include adult rats, employing complex cognitive behavioral tasks that require technical capabilities and equipment that are a specialty of the Roesch lab. By accounting for adulthood, Ashton's research will offer a fuller picture of how social attention and behavioral flexibility develop across the lifespan and ultimately provide key insights into human neuropsychiatric developmental disorders, such attention deficit hyperactivity disorder, autism spectrum disorder and schizophrenia.
Pizano, a first-year graduate student in the lab of Professor Joshua Singer, will train in Baltimore at the laboratory of Associate Professor Brain Mathur in the use of molecular and genetic methods to assess light-mediated mood regulation. Pizano's research is centered around intrinsically photosensitive retinal ganglion cells (ipRGCs), which are a major channel for the regulation of circadian rhythm in mammals. Scientists know that the dysregulation of circadian rhythms can lead to depression and other neuropsychiatric disorders, but the exact role of ipRGCs in this process is not entirely clear. At the Mathur lab, Pizano will use chemogenetic tools coupled with behavioral assays to investigate the mechanics of a particular protein released by ipRGCs. Specifically, Pizano will examine how pituitary adenylyl cyclase-activating proteins (PACAP) are received by cells in the body's circadian clock. Uncovering PACAP's mechanistic role will help chart more precisely the chemical pathways by which ipRGCs influence mood changes brought on by light disruption.
The VFIN enables cross-campus training for neuroscience graduate students in UMB's PIN and UMCP's NACS Program to promote enhanced collaboration between research groups in Baltimore and College Park, providing funding for research rotations of PIN students in College Park and NACS students in Baltimore. The Program is funded by the University of Maryland Center for Economic and Entrepreneurship Development, a center created by the University of Maryland Strategic Partnership Act.
You can learn more about this cross-campus neuroscience training program through a recent Q&A with 2020 VFIN awardee Chelsea Haakenson. The next call for VFIN proposals is expected to be issued summer 2022.
###
Media Relations Contact: Nathaniel Underland, underlan@umd.edu
About the Brain and Behavior Institute: The mission of the BBI is to maximize existing strengths in neuroscience research, education and training at the University of Maryland and to elevate campus neuroscience through innovative, multidisciplinary approaches that expand our research portfolio, develop novel tools and approaches and advance the translation of basic science. A centralized community of neuroscientists, engineers, computer scientists, mathematicians, physical scientists, cognitive scientists and humanities scholars, the BBI looks to solve some of the most pressing problems related to nervous system function and disease.
Published December 15, 2021