NIH announces HEAL Initiative Grants for UMD faculty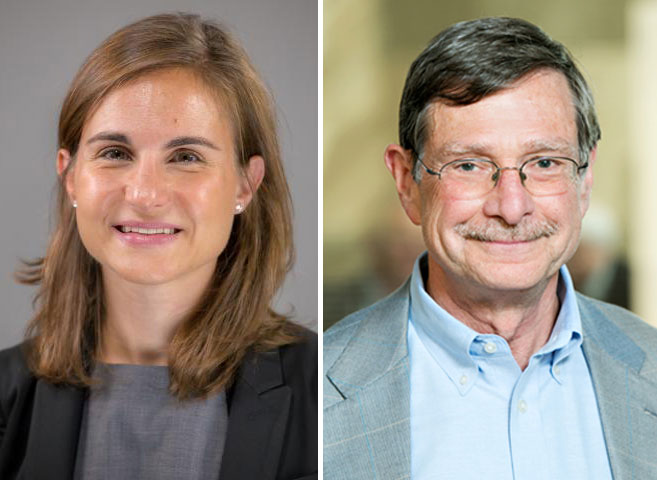 University of Maryland researchers will conduct an unprecedented investigation into how fetal exposure to opioids affects children's brain development and health outcomes, and improve patient retention rates in treatment programs, as part of a sweeping National Institutes of Health initiative to apply scientific solutions to help reverse the nation's opioid crisis.
Distinguished University Professor Nathan Fox (Department of Human Development and Quantitative Methodology) and Assistant Professor Jessica Magidson (Department of Psychology) are part of the latest cohort of researchers selected by the National Institutes of Health (NIH) to help address the nation's opioid epidemic. NIH announced the awards last week for its Helping to End Addiction Long-term (HEAL) Initiative, a nearly $1 billion effort to stem the national opioid public health emergency.
The University of Maryland's award is one of 375 grant awards across 41 states made by the National Institutes of Health in fiscal year 2019 to apply scientific solutions to reverse the national opioid crisis through the Helping to End Addiction Long-term, or the NIH HEAL Initiative. The National Institute on Drug Abuse-funded study addresses an urgent public health need: the use of opioids by pregnant women and mothers has increased by 300% since the early 2000s, with the number of newborns with neonatal abstinence syndrome, caused by withdrawal from drugs they were exposed to in the womb, increasing by approximately 400%. In 2016, more than 31,000 babies were born with the syndrome, causing symptoms including tremors and sleep problems.
Fox's research is a longitudinal study of opioids and childhood development. His work attends to the complex conditions and outcomes of opioid exposure in children, assessing both the behavioral and neurocognitive effects of pre- and post-natal interactions with opioids. Along with psychology professors Tracy Riggins, Elizabeth Redcay, and Luiz Pessoa, Fox will integrate across UMD's areas of neuroimaging expertise to develop a multi-modal MRI and EEG protocol for assessing multiple elements of the maturing brain: its structure, its function, and the connectivity of its different areas to one another. This research is part of a 10-year, multi-university study examining the behavioral, cognitive, and societal outcomes through age 8 of children exposed to opioids in utero.
"We know very little about the effects of early exposure to opioids on brain development," said Fox, of the Department of Human Development and Quantitative Methodology and a renowned expert in child development. "There has never been a national study of even normative brain development during the early years of life. Our research will help fill a gap in understanding of the basic science of early brain development, as well as identify the effects of early drug exposure on the brain, along with prevention strategies."
The University of Maryland is part of a five-institution consortium that is laying the groundwork through this initial study for a large-scale national, 10-year longitudinal study that examines the effects of in utero exposure to opioids on children through the age of 8.
The 18-month study will begin in October, with a research team that includes Professor Brenda Jones-Harden of the University of Maryland School of Social Work, and psychology Associate Professors Tracy Riggins and Elizabeth Redcay, and Luiz Pessoa, professor of psychology and director of the Maryland Neuroimaging Center.
Unlike many previous studies, the project will not only examine fetal exposure to opioids like fentanyl and prescription painkillers, but also include pregnant women who are poly-drug users. Following babies as they develop will allow researchers to better understand how opioid and other drug use, in combination with family, environmental and socioeconomic factors, influences babies' development through childhood.
"For many of these children, this initial exposure to opioids is only the first in a series of challenges they experience that may affect their health and development, and could lead to 'a crisis cascade' as they age and interact with school systems and social services," Fox said. "Our research aims to take a holistic approach to early childhood exposures in order to pinpoint critical areas and timelines for intervention, which will help guide the response to this major public health concern."
In the initial phase, the University of Maryland researchers will recruit 20 pregnant women (and their infants at age 3 months), including those who use opioids, and 20 12-month olds and 20 2.5 year-old children from diverse populations at Howard University Hospital and George Washington University Hospital. The study will carefully address ethical concerns relating to the topic of opioid use in pregnancy, and will include an external Community Advisory Board to provide strategic guidance on legal and ethical questions.
In addition to Maryland, the consortium includes Brown University, Harvard University at Boston Children's Hospital, Boy's Town in Omaha, Nebraska, and Avera Health in South Dakota, allowing them to recruit from rural areas that have been hardest hit by the opioid crisis.
Magidson's research addresses opioid use disorder (OUD) as it affects low-income racial or ethnic minority individuals, for whom relapse from medication-assisted treatment for opioid use is more pernicious. Part of the problem is that these populations face cultural barriers to remaining on medication-assisted treatment, such as social stigma, housing instability, and challenges navigating services. To address the social difficulties associated with treating OUD, Magidson proposes the introduction of peer recovery coaches (PRCs), or trained individuals with experiences with substance use disorder. PRCs provide a brief behavioral intervention to those struggling with OUD. Magidson will work in collaboration with Eric Wish, an associate professor of criminology and criminal justice and the director of the Center for Abuse Research, as well as with Aaron Greenblatt, Melanie Bennett, and Mimi Belcher, colleagues from the University of Maryland School of Medicine in Baltimore.
The opioid crisis is marked and exacerbated by poor access to care—care that includes not only medication, but also behavioral treatments that should be delivered alongside medication.
Among those who do receive medication for OUD, only about half of individuals are still engaged in care after six months. There is an urgent need to identify how to improve retention in care and deliver evidence-based behavioral treatments alongside medications for OUD.
This project aims to develop and evaluate an innovative model for improving retention in OUD treatment, with a particular focus on addressing the needs of underserved individuals in Baltimore City who are most vulnerable to poor outcomes.
"We will evaluate how peer recovery coaches—trained individuals with their own lived experience with OUD—can help to improve retention rates for patients in care programs. We are especially focused on helping underserved, minority individuals with OUD," Magidson said.
This grant is in close collaboration with Dr. Aaron Greenblatt, a family medicine physician and opioid treatment provider at University of Maryland Baltimore (UMB) School of Medicine, who also serves as Medical Director of the UMD Drug Treatment Center, where this study will be taking place. Other UMD faculty members on the project include Drs. Melanie Bennett and Annabelle (Mimi) Belcher of the University of Maryland School of Medicine's Department of Psychiatry, and Dr. Eric Wish, director of UMCP's Center for Substance Abuse Research (CESAR).
The grant funds approximately $800,000 over two years for this first phase of the project. If the first phase is successful, the team will transition to a second phase, bringing the total to approximately $3.5 million over five years.
Magidson joined the faculty at University of Maryland in 2018. A lot of her work prior to starting at Maryland has focused on expanding access to substance use treatment in resource-limited settings in sub-Saharan Africa. There, her team uses peer-delivered models to increase substance use treatment, because there is a huge shortage of behavioral health providers in those settings, leaving a treatment gap—with often the poorest and most vulnerable people, without access to care.
"What we've learned is that patients actually prefer to work with a peer—by bringing their own lived experiences, peer providers can create a space that is destigmatizing and motivating for patients. We have also learned that peers can do a lot with appropriate support and supervision. For example, they can deliver brief interventions that we typically rely on psychologists or specialists to deliver in high-income settings," Magidson said.
This substance use treatment gap is not just present in low-income settings—there is currently a massive substance use treatment gap in the United States, which stems primarily from a shortage of health care resources, but is also widened by stigma toward substance use disorder (SUD), and the poverty that too often accompanies SUD.
As peer recovery coaches, or peer recovery specialists, are rapidly expanding in the United States to meet the substance use treatment gap locally, this project will allow for an exciting opportunity to evaluate a potential solution for improving OUD treatment outcomes using peer delivery of structured, evidence-based interventions to improve retention in care.
"If our findings show that this approach is feasible and effective, it has important policy implications for peers' scope of practice, as certification, training, and funding legislation is being prioritized nationwide," Magidson said. "We are excited for this opportunity to evaluate an innovative, scalable model that may help fight the opioid crisis by improving outcomes for an underserved population. We must address the behavioral health comorbidities and other structural barriers that too often accompany OUD."
The funding for this project will continue to foster growth in Magidson's lab at UMD, the Global Mental Health and Addiction Program. This project will also allow for increased opportunities in BSOS for undergraduate students, graduate students, and other staff to bridge more with UMB and serve marginalized patients affected by the opioid use crisis in Baltimore City.
About the NIH Heal Initiative
The National Institutes of Health launched the NIH HEAL Initiative in 2018 to improve prevention and treatment strategies for opioid misuse and addiction and enhance pain management. The initiative aims to improve treatments for chronic pain, curb the rates of opioid use disorder and overdose, and achieve long-term recovery from opioid addiction. In late September, the NIH announced $945 million in new research funding to tackle the national opioid crisis.
"It's clear that a multipronged scientific approach is needed to reduce the risks of opioids, accelerate development of effective non-opioid therapies for pain, and provide more flexible and effective options for treating addiction to opioids," said NIH Director Francis S. Collins, M.D., Ph.D., who launched the initiative in early 2018. "This unprecedented investment in the NIH HEAL Initiative demonstrates the commitment to reversing this devastating crisis."
For more information about the NIH HEAL Initiative, visit: heal.nih.gov.
Published September 30, 2019